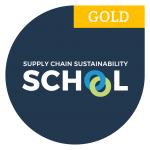 THE BESPOKE BRICK COMPANY ARE PROUD TO HAVE BEEN AWARDED GOLD MEMBERSHIP LEVEL
IN SUPPLY CHAIN SUSTAINABILITY SCHOOL
As part of our environmental, social and governance (ESG) strategy 'Together for the Future' and our continued drive to minimise our environmental impact and reach carbon net zero in our own operations by 2030, we set a goal to engage with the Supply Chain Sustainability School (SCSS) and obtain a Gold level membership. Brickability Group PLC is delighted to announce today that this has now been achieved!
The SCSS is an award-winning, industry-wide collaboration to support everyone in the supply chain to work together for a sustainable future for the built environment. As part of their vision to be "an industry where everyone will have the skills and knowledge to deliver a sustainable future", they offer free learning resources to members in areas such as sustainability, procurement, inclusion, respect, management and people. Gold level membership is awarded to members who continually learn, assess progress, engage with events, and who evidence business change and collaboration with others in the supply chain.
Across a number of our teams, our people feel that engaging with the School has increased their knowledge and confidence in working on issues surrounding sustainability, particularly with our valued suppliers and customers. Topics covered as part of the e-learning modules include carbon and climate change, social value and modern slavery. Our next steps include developing bespoke action plans relevant to our specific teams and areas for improvement across our businesses and developing further collaborations with our
suppliers and customers to continue to be part of the drive towards a sustainable future.

LOOKING FOR MORE INFORMATION?
Contact our experienced team today to discuss your project in more detail